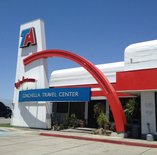 Make an Appointment
Phone: 760-676-6872
M, T, Th 9a-12p, 2p-730p
Wed 12p-730p
Fri 9a-12p, 2p-7p
1st and 2nd Sat 8a-12p
Kinesio-Spino Chiropractic Clinic with Dr. Michael C. Day, DC Chiropractor.
Chiropractic Examination and Adjustment $70 Cash
Massage Chair and Adjustment $60 Cash
Subsequent Adjustments $35 Cash
Sports Physicals Exams $35 Cash
DOT Physical Exams for Truck Drivers $60
Initial Chiropractic visit includes examination and Chiropractic adjustment ($70) Cash only. Thereafter, chiropractic adjustments are ($35) Cash only. Chiropractic is available on an as-needed basis and on a cash payment. Massage chair and chiropractic adjustment ($60). I only take patients that are not on any injury cases and do not need any special reports. This is a straight chiropractic adjustment for wellness practice and no liens, auto cases, work injury cases, insurance cases are accepted. Reports and notes are only available at $100 per page if there is a case that was not part of this office.
Coachella and Indio area Chiropractor for Chiropractic Adjustments at a low cost, open late and most Saturdays.