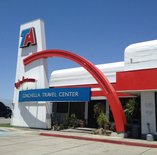 Make an Appointment
Phone: 760-676-6872
M, T, Th 9a-12p, 2p-7p
Wed 12p-7p
Fri 9a-12p, 2p-630p
1st and 2nd Sat 9a-12p
Kinesio-Spino Chiropractic Clinic with Dr. Michael C. Day, DC Chiropractor.
Chiropractic Examination and Adjustment $60 Cash
Massage Chair and Adjustment $60 Cash
Subsequent Adjustments $40 Cash
Sports Physicals Exams $40 Cash
DOT Physical Exams for Truck Drivers $60
Initial Chiropractic visit includes examination and Chiropractic adjustment ($60) Cash only. Thereafter, chiropractic adjustments are ($40) Cash only. Chiropractic is available on an as-needed basis and on a cash payment. Massage chair and chiropractic adjustment ($60). I only take patients that are not on any injury cases and do not need any special reports. This is a straight chiropractic adjustment for wellness practice and no liens, auto cases, work injury cases, insurance cases are accepted. Chiropractic notes are basic subluxation notes only. You must pay in advance $100 per page if you are here for an auto accident, work injury or insurance claim that we are not involved in. We do not perform chiropractic for any cases.
Coachella and Indio area Chiropractor for Chiropractic Adjustments at a low cost, open late and most Saturdays.