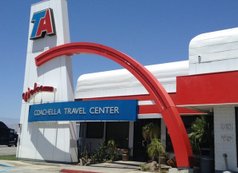 Hours
Wednesday 12pm to 7:pm
Tuesday-Thurs: 9am to 7:pm
Friday 9am to 630am
Saturday: 9am to 12pm

Please Call for an appointment time if you are not an over the road truck driver. Also, some Saturdays we may be closed, but not very often. Looking forward to seeing you.
Chiropractor Coachella Indio Saturdays open late weekly.
How to Find Us
Directions from Interstate 10
Take Interstate 10 east or west to the Dillon Road Exit in Coachella, CA.
Exit on to Dillon Road and turn south to the TA Travelcenter Truck Stop.
Pull in on the right and park.
When you walk into the store go to the back and the office is near the game room.
If you enter from the car parking lot come into the west door and continue to the game room and we are on the left.
Ask an employee if you are having difficulty.
You can reach us during our office hours by phone:
46155 Dillon Road
Coachella, CA 92236
Phone: 760-676-6872
M, T, Th 9a-12p, 2p-7p
Wed 12p-7p
Fri 9a-12p, 2p-630p
1st and 2nd Sat 9a-12p